How do you feel about Bounty bars?  You know, the coconut-filled ones covered in delicious chocolate?  I'd never really gotten into them until this past year.  For some reason they're super popular over here, and so when I can't find the perfect dark chocolate bar, I tend to opt for a Bounty bar.  I think it's really the coconut that attracts me.  Okay, and the combo with the chocolate, but still, I'm not usually a coconut-in-my-chocolate-bar kind of girl.  But I think I've changed my tune on that now.
In any case, when I decided to break in my new food processor this past week, I decided I wanted to make some sort of power bite/dough ball idea that would combine two delightful ingredients: chocolate and coconut.
So I just started dropping in ingredients, mixing and matching, processing, and seeing if I could find a good consistency and combination in flavours.  And that I did, friends.
Although, I'll be the first to admit that they kind of look like miniature cow patties… but that's something we can get past, I'm sure of it.
These are like a healthier version of a Bounty bar.  They're sweet, but waaaaaay less so than a Bounty bar.  They're packed full of protein, but not in a I-can-taste-the-chickpeas kind of way.  Give 'em a try.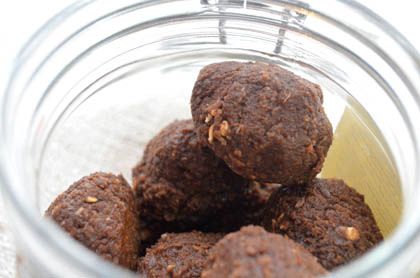 Chocolate 'n' Coconut Power Bites:
2 cups of cooked chickpeas
1 tbsp. shredded coconut
1 banana
1/2 cup of oats
2 tbsp. honey
2 tbsp. peanut butter (or any other nut butter)
1 heaping tbsp. cocoa powder
Pinch of salt
Combine all of the ingredients into your food processor and pulse for approximately 30 seconds, or until the mixture is well combined.  Refrigerate the mix as-is for at least 30 minutes.  Remove from the fridge, form into small balls and place on a baking sheet.  Bake at 350F for 10 minutes, just until the bites firm.  Transfer to a cooling rack and once they are cool, keep refrigerated.  Makes 12.  They will last for about 5-7 days in the fridge.
Like the sound of these?  Try my Peanut Butter Pomegranate Power Bites too!