I'll be honest: I'm not that great at making bread.  Actually, I'm certain I've mentioned before how baking in general just isn't my thing.
Don't get me wrong, I love to eat baked goods.  I loved to eat bread, cakes, doughnuts… but bake them?  They usually turn out as hard as a rock.  Muffins, I can do.  Banana bread, no problem.  Brownies and cookies?  Sure thing. But the rest of it?  Usually a very sad story in the Lublink house.
Have I told you about the time when I made a horribly lopsided birthday cake for Peter?
Or the time when I used my bread machine to make bread and it overflowed (still liquid-y) out of the machine?
No?  I'll just leave you with those tid-bits and let you bask in my incredible baking "skills"…
But things have changed… I found an AMAZING baguette recipe that I tried and it WORKED.  It worked beautifully!!!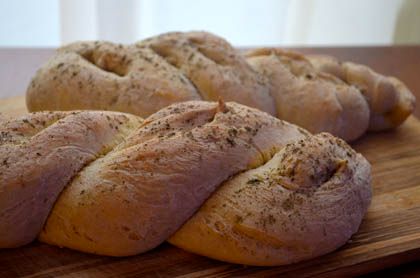 It all started when friends of ours were having us over to dinner for shrimp scampi, and they asked us to bring some fresh bread for dipping in olive oil.  Awesome!  The only trick is that it's hard for us to find that kind of fresh bread at the last minute in Kuwait.  So, I figured I'd give bread baking another chance.
I did a quick google search on my phone to see what I could find that would a.) taste good b.) be easy enough for me to make and c.) not take a zillion hours heating up my already-warm middle eastern kitchen.
I found this recipe, which is fabulous.  I really can't say enough good things about it.  I didn't make all that many changes.  I used a combo of white and whole wheat flours, I braided it instead of leaving it in the usual loaf shape, and I sprinkled it with zaatar (skipping out on the cornmeal).  Oh, and instead of cooking spray (because I don't have it!), I used regular olive oil and just spread it myself.
So if you're a terrible baker like me, do yourself a favour and try this recipe.  It's a keeper in this house!