HAPPY NEW YEAR!!!
Chances are you stayed up way too late last night and now you need something sugary to wake you up.  Wait – you had too much sugar during the holidays?  Nonsense.  You can never have too much sugar…
So, everyone's all over the peppermint chocolate stuff at Christmastime.  Don't get me wrong, I love peppermint and chocolate as a combo… but there comes a time when it's overdone.  Over-the-top.  Halas (which means "finished" in Arabic)!
Seeing as it's now January 1st, and definitely not Christmas anymore, I decided to whip up a hot chocolate that involves roobois tea.  I love tea.  I love chocolate.  Combine them in a drink, and I'm a happy camper!  It's a good way to start 2013.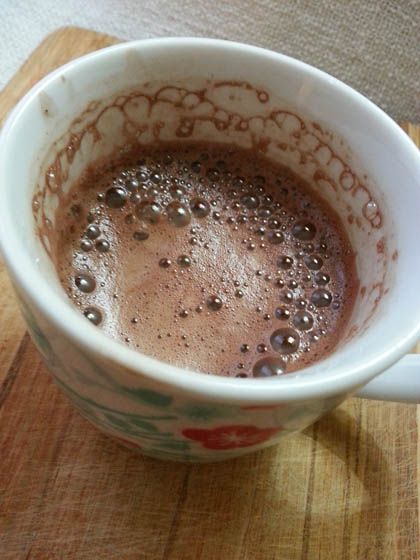 Rooibos Hot Chocolate:
1 tbsp. rooibos tea (either 1 bag, or in loose leaf form)
3/4 cup water
1/8 cup cocoa powder
2 tbsp. honey
1/2 cup milk (I used rice milk)
Bring water to a boil and steep the tea for 6-8 minutes.  Meanwhile, combine the rest of the ingredients in a small saucepan.  Simmer gently, while stirring to combine the ingredients.  Once the tea is finished steeping, pour it into a mug, pour the hot chocolate mix on top, and use your hand frother (or a whisk) to mix them up really well.  Enjoy!  ~Makes 1 serving.