You've seen what we have been eating around town, but I haven't told you about what we're eating in our own home! To be honest, there haven't been too many huge changes. We typically ate "differently" than most North Americans anyway, so now I think we fit in, haha.
We eat breakfast at 5:00 a.m. each day – well, slightly after that when we get up – and it's either yogurt (the equivalent to Greek yogurt) and fruit, or oatmeal with raisins (Peter) or oatmeal with peanut butter and date syrup (me!). I know that for myself the oatmeal is fantastic and it tides me over for about 5 hours, which is great, especially since I'm up so early.
As I mentioned in our school post, we don't have a "lunch time", so we both eat whenever it's convenient in our schedules, so we bring munchie food to keep us going. So far this includes, flat bread and hummus, fruit, raw veggies, almonds, 1.5 litres of water each (no joke, it's so warm that I finish one during each work day). This keeps us going until we get home and then we usually dive into our dates…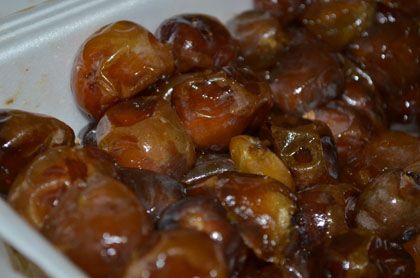 There is honestly no better food in the entire world than fresh dates. I'm soooooooo addicted to them. Since coming to Kuwait 2 years ago I've been DREAMING of these dates FOREVER, and no that I have them I can't get enough. SO delicious.
We eat dinner around 5:00 p.m. every day and it's vegetarian. It's not that we're vegetarians, but honestly, the type of meat we like to eat is easily ordered from any restaurant nearby for very cheap, so when we do eat meat, we eat it out. It's just easier for us this way, and also cheaper. Plus, we don't eat meat that much. So, we stick to lentils, chickpeas, and I'm experimenting with other legumes that I find locally. This means we eat quite a bit of curry (both "Indian" and "Thai"…and I say that loosely because I'm not an expert in those styles of cooking) and it's usually a one-dish kind of meal. So rice with a chickpea curry, noodles with coconut milk curry, baked sweet potatoes topped with a sloppy lentil type dish… you get the idea.

Here's a quick peek into our cupboards and fridge. They might look bare to you, but they're just full enough for us.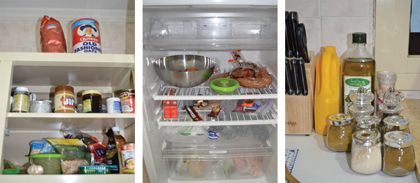 Where do we get our groceries? There's lots of options throughout the city, but right now, for where we're living, we use the bakala, which is a small convenience store that sells minimal produce, but lots of spices, legumes, etc. We also use a few larger shopping centres that require a taxi. But essentially there's nothing we can't get. If anything there's lots more here that we want to try than when we were in Canada! Not just that, but the cost of food here is MUCH cheaper, for which we're grateful.
So there you have it! A little look into our daily food lives.