Over the weekend I got really domestic. I mean really domestic.
I baked brownies, muffins, and cookies and stuffed them in my freezer. The brownies weren't my recipe, and they were a bit dry. The muffins were a recipe I'm tweaking (Lemon Earl Gray!), and while the flavour was yummy, they didn't fluff up like I wanted… and the cookies were my usual coconut oatmeal raisin cookies. I added a pinch of cinnamon and used coconut oil this time. #winner
I'm still figuring out our oven and that could be part of the baking problem. It's gas, and while that's considered great by lots of people, for me, it's kind of a pain. I can never tell when it's ready, things don't heat evenly… it's just a pain in the butt. I mean, really, it's probably that I'm not a stellar baker, but I like to blame it on the oven. It's easier that way.
In any case, I didn't stop at baking! No, I continued on my domestic endeavours and I also decided to fill up our freezer with stuff to make cooking on busy nights even easier. I soaked and cooked TONS of beans (chickpeas, lentils, black beans [brought from Canada]), and I also was smart and made some frozen burritos for those nights where things are especially cray cray. You know, when you have 6 commitments and you're late for all of them and three of them overlap? Or when you're just super lazy and don't want to cook dinner? The latter happens to me more than the former. Nevertheless, frozen burritos to the rescue!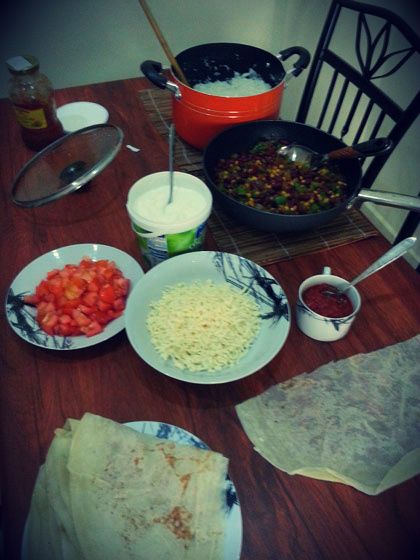 I bought extra ingredients of everything on our weekly Friday grocery trip. I cooked up giant batches of rice (some for the burritos, some for during the week), giant batches of beans (as mentioned above!), and I set to making a burrito buffet. I loaded them up, rolled them in tinfoil (we were out of saran wrap), and put them in my freezer! They're super delicious. Here's what I did for our burritos…
Ingredients:
olive oil
diced onions
hot green chile
minced garlic
spices (salt, chili powder, cumin, cinnamon – to your liking, but roughly 1 tsp. of each)
diced green peppers
corn
kidney beans
Arabic flatbread (obviously tortillas are the regular option, but over here the flatbread is waaaaaay cheaper and works just as well, and is way easier to find!)
plain rice
diced fresh tomatoes
plain yogurt (similar to Greek yogurt)
salsa
shredded mozzarella cheese
tinfoil or saran wrap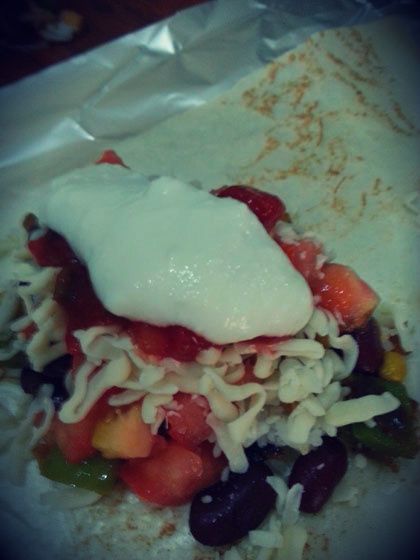 How To:
I heated up the olive oil and dropped in the onions.
When they were all starting to caramelize a little I added in the green chile, garlic and spices.
After a few minutes, I added in the green pepper until they softened and then added in the kidney beans, corn.
Once everything had mixed together I set it aside.
I set up my burrito station with all of the ingredients ready to be piled into the flatbread/tortillas. I had to do this on my table because we have little to no counter space in our kitchen. Just pick a space that's big enough to do it all together. It'll make your life easier!
Lay out your tin foil/saran wrap first, and then put your flatbread on top. Load 'em up and then roll up, and cover in the tin foil.
I'm not about to give you measurements for everything because a.) you're smarter than that and b.) it doesn't really matter. Just make as much as you think your family will need, and taste test to see what you like. Add more hot chiles if you like it spicy! Take it out if you don't want any heat. If it's too salty, add some honey. If you like more cumin, load it on! Just taste as you go to find your perfect mix. Want them to have meat?  Sub out the beans for ground beef or shredded chicken.  It's totally customizable.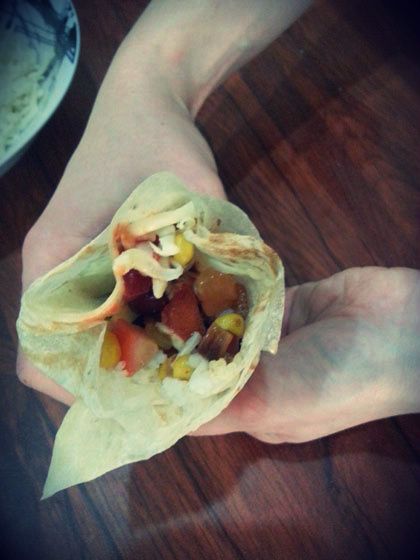 Honestly, these are a total life saver. Just remember though: if you wrap yours in tinfoil, and you plan on heating them up in the microwave, remove the tinfoil first!!! Safety first, guys, safety first.