Since I've been teaching music I've sung all kinds of crazy little kiddo songs.  As much as I love the kids, I must admit, that at the end of the week I'm grateful for 2 days where I don't have to sing kiddie songs allllll day long.
One of the song I have sung lately is called "Dipidu" which really doesn't have much point to it lyrically other than to get the kids thinking about short and long sounds.  But we sing the words "dip" and "dipidu" a ton of times, and sometimes it makes me think of dip…as in, the yummy thing we eat veggies and such with.  Yup, food on my brain…
Anyway, the other night I was in the mood for a warm, creamy dip and I whipped this up and it hit the spot!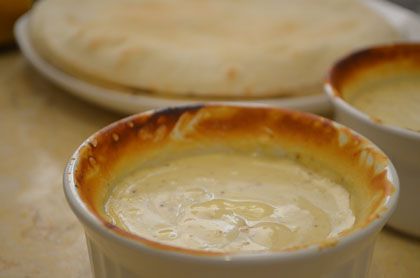 Creamy Dip:
4 tbsp. plain Greek yogurt
2 tsp. hummus
2 tsp. cream cheese
1 tsp. salt
1 tsp. garlic powder
1/2 tsp. pepper
1 tsp. mustard
Mix, pour into two small ramekins and bake at 400F for 15 minutes or until bubbly. Serve with pita bread for dipping.
This also doubles as an awesome pizza sauce! I made my yeast-less pizza dough and covered it with the leftover dip, and then topped it with roasted vegetables (butternut squash, potatoes and green pepper), and a few more dabs of cheese and baked it at 400F for about 10 minutes until the crust was golden on the bottom. It's a delicious way to use the dip in multiple ways!