I have hair.  Presumably you have hair.  But you know what?  Hair frustrates me.  It's supposed to be easy to do your hair, right?  Well, at least, I feel like it should be.  If it's naturally growing on my head then why shouldn't I have the natural ability to style my own hair?!
There are people who literally look like their hair is so fabulous and yet didn't spend a moment on it.  And then there are people like me (and perhaps some of you) who spend a little bit of time, and it still looks yucky.
Okay, I'm being slightly over-the-top right now because I recognize my hair isn't bad all the time.  But I'm still certainly not one of those "effortless" people who can style it in a jiffy.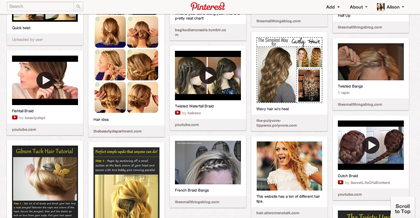 Nevertheless, I will soon be starting a job where I start work at 7:00 a.m.  And it will be hot all year round.  Which means that me and my thin hair are going to need to find a way to get along a little quicker/better than we usually do.  So, in an effort to be proactive, I've been pinning some hairstyles which I intend to give a whirl in the hopes that I can actually accomplish some of them.
But here's a question for you: do you have a go-to hair-do that you know works and you love and feel happy with?  I'll take any tips/advice I can get!
And now, if you'll excuse me, I need to figure out how to categorize this post since I never post about beauty or hair…