After attempting to get myself to sleep the night before, we all arose on Day 2 of our Montreal adventure with the anticipation of heading to the Jean Talon Market.
Not only was I super excited because it's supposedly the largest open-air market in North America, but also because it was the starting location for our foodie tour!!!  2.5 glorious hours with a local tour guide to take us through the nooks and crannies of the market and the surrounding area of Little Italy and to show us some of the delicious tastes of Montreal.
Amazing, right?  Umm, yah, totally amazing.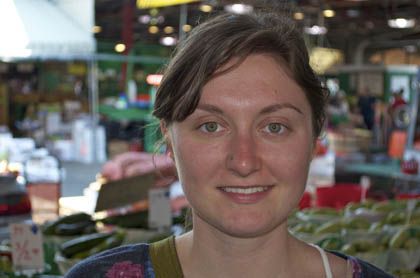 Despite the calm exterior, I promise I was going crazy with excitement on the inside.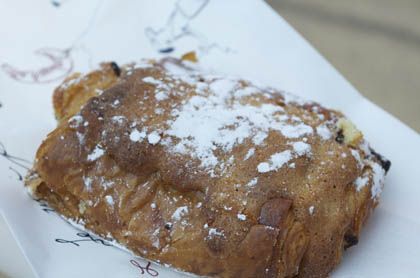 We got to the market a little early and we wandered through on our own  for a bit just cruising up and down the aisles of over 300+ vendors.  We paused to grab me a chocolate-almond croissant from Au Pain Dore and then we sat down for Peter to enjoy his crepe.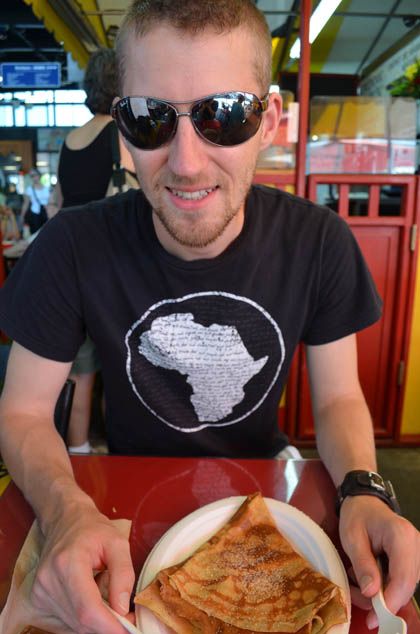 Eventually though we met up with Lise, our foodie tour guide for the afternoon!  There were 10 of us in the group, and it was a great size.  Any bigger would've been too chaotic in the already-busy market.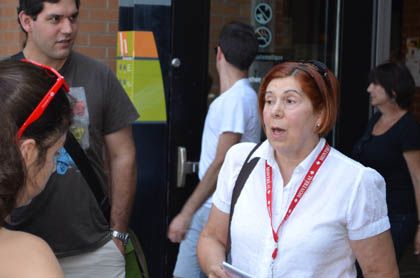 Our first stop was at "Pâtisserie le Ryad" to enjoy some Turkish delight.  We had passed the booth earlier in the day and I remarked to Peter how much I liked Turkish delight and how I wanted to buy some, but we resisted… But I still got to try it in the end!  It was very yummy.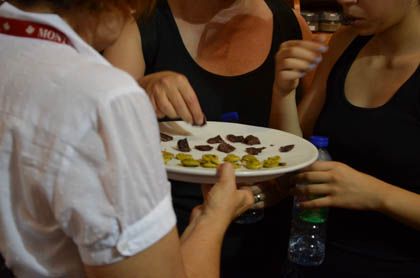 Our next stop was to try some sparkling rhubarb juice (no picture) along with pickled fiddleheads and dried beef jerky.  It was all soooo incredibly tasty.  I really loved the juice, and the fiddleheads had a nice texture and "bite" to them.
Then we paused at a little sausage vendor where we were allowed to try one piece of sausage each.  The options were abundant: duck, bison, pig, cow, lamb, turkey, tofu, venison…and more I can't recall.  I ended up choosing the duck sausage and Peter had a venison sausage.  We split them together and they were both so tender and flavourful.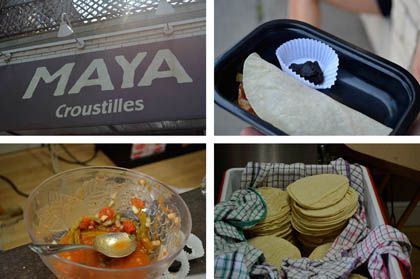 One of my favourite stops was the little Mexican restaurant called "Maya Croustilles."  The sweetest little lady put together small soft corn tortillas (made there on location!) with a flavourful filling of green peppers, tomatoes, etc. done like a salsa.  She included a dark mole on the side which I put inside my tortilla and it was soooooo fantastic.  It had just enough "kick" to it and it was hearty but not overdone.  And she also gave us handmade tortilla chips to try, which were just as wonderful!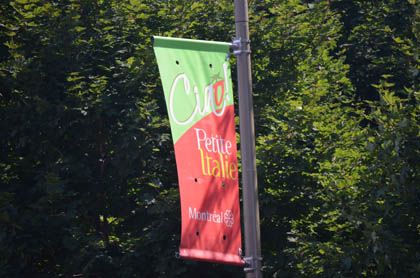 It was at this point that we did more walking through Little Italy.  Lise told us about the history of the neighbourhood, including a local cathedral (where we witnessed a young Italian couple getting married!) which was all intriguing and informative.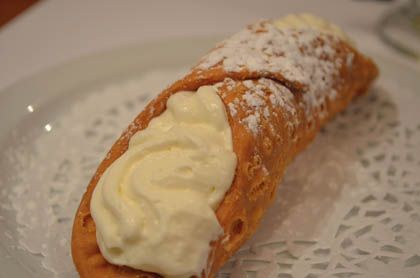 Our tour ended at a small Italian restaurant where we had the best cannoli on the planet.  Seriously.  Okay, so maybe it's better in Italy itself, but seriously – this stuff was divine.  The made it fresh to-order when we all arrived.  Incredible.  Have I used that word enough??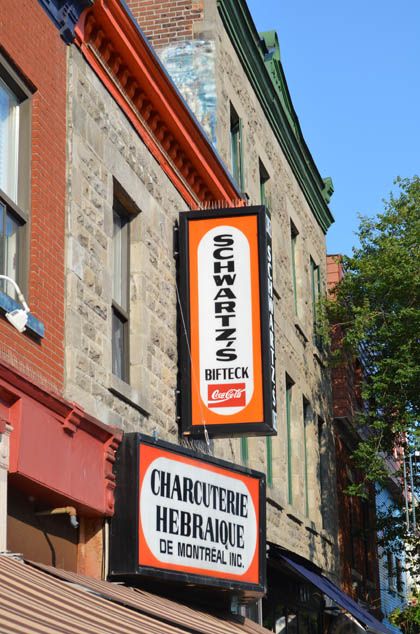 Well, despite our official foodie tour being over, our food ventures didn't stop there!  As if we hadn't sampled enough food throughout the day, we actually continued on to the famed "Schwartz's."  It's a Hebrew Delicatessen.  Apparently there is always a line-up from the moment they open until the moment they close, so we joined up the line and waited our turn.

We actually didn't wait that long because space for 4 opened up pretty quickly!  We were seated at a table for 6, along with another couple.  Everyone in there eats with someone else in order to make the line-up go quickly.  It was a fun experience!


We had the typical smoked meat sandwich (beef) that comes either lean, medium or fatty.  Everyone says medium has the best flavour, so we went with that!  And we ordered a side of coleslaw and fries.  It wasn't exactly health conscious, but it was so very tasty and we all were really happy to have tried it!!
On the Sunday we made our trek back to Ontario.  Can I just say, that not only did I wake up with a nasty cold but I also got to drive in the worst weather we'd had all weekend.  It was pouring rain.  And I have this "joke" with Peter that I only ever drive on our road trips in the really bad weather or the boring scenes.  For example: during a bad snowstorm on our way to New York City in 2006.  Or driving through the flat prairies for HOURS.  Or in this case, being pummelled with rain.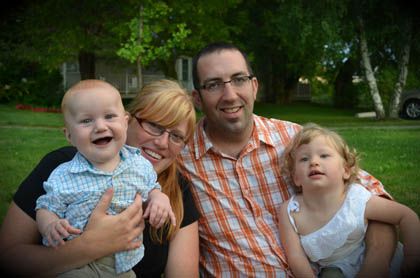 Despite the rain, the best part of the trip home was that Peter and I got to stop in Picton, ON to meet up with one of his older sisters, Rachel and her hubby Brian and their super cute kiddos, Olivia and Nathaniel.
We had a delicious dinner at "The Barley Room Pub" and then we finished up the rest of our trip back home.  It was a fun trip through Quebec and I'm so glad we had the chance to do it!