Time is a-tickin', and before we know it we'll be flying off to Kuwait!  Seriously…it's less than 2 weeks until we leave, which is kind of insane to think about.
I have so many  things I need to do to practically prepare.  I mean, we need to actually decide what we're packing.  It's all good in theory to talk about what we want, but what will actually fit?!  And how do you pre-pack when you are packing all the clothing you own…it's not like a vacation where you pack what you're taking and just wear other clothes.  Gah!
AND – for all you foodies…how do I decide what to bring from my kitchen?!  My kitchen in Kuwait will be stocked for me with the regular stuff, but there are just some items I'll want to bring anyway.  But how to narrow those down to a reasonable limit…
In any case, I know I don't need any fancy gadgets or gizmos to make these delicious treats, as featured in the August edition of Faith & Friends magazine.  Both of these recipes are AMAZING and I say that most humbly, of course.  The cheese stuffed burgers are so delicious, and great for a party.  And the mac 'n' cheese surprise is a fun one to add to your fall rotation of meals!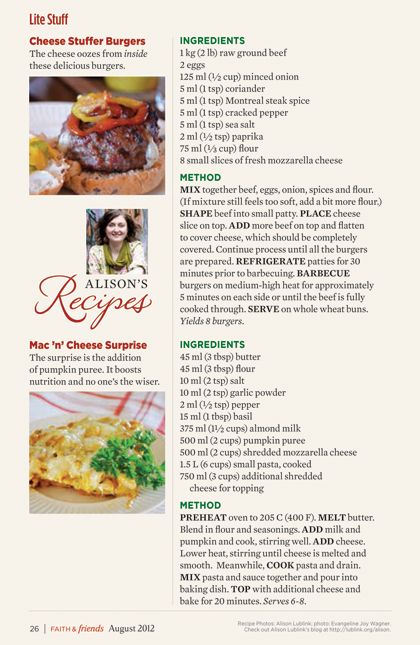 The print on the Mac 'n' Cheese Surprise is a bit small, so I'll do a separate post tomorrow with the full recipe and picture so you can enjoy it!  You won't want to miss it – seriously – it's a hit.
What's also fun, is that Peter and I got to meet the Editor of Faith & Friends, Ken Ramstead for lunch this past week.  It was great to meet him face-to-face after having a phone interview and a ton of e-mails exchanged!  And we got to chat about the upcoming recipes for 2013… :)  I've got them almost all ready!!  It's such a fun process.