As promised from yesterday, here is a post for the Mac 'n' Cheese Surprise recipe.  It's a good one for guests and it please adults and kids, vegetarians and meat-eaters.  It's pretty much the same as my Squash Mac 'n' Cheese, but this one particularly caters to pumpkin.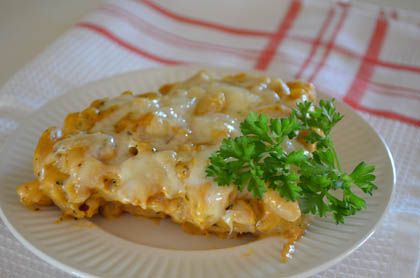 Mac 'n' Cheese Surprise:
3 tbsp. butter
3 tbsp. flour
2 tsp. salt
2 tsp. garlic powder
1/2 tsp. pepper
1 tbsp. basil
1.5 cups almond milk
2 cups pumpkin puree
2 cups shredded mozzarella cheese
6 cups small pasta, cooked
3 cups additional shredded cheese for topping
Pre-heat oven to 400F.  Melt butter.  Blend in flour and seasonings.  Add milk and pumpkin and cook, stirring well.  Add cheese.  Lower heat, stirring until cheese is melted and smooth.  Meanwhile, cook pasta and drain.  Mix pasta and sauce together and pour into baking dish.  Top with additional cheese and bake for 20 minutes.  Serves 6-8.