The food in the Middle East has to be some of the best food in the entire world. Seriously. I love good food, and this place is like a dream come true for good food!!
I haven't taken pictures of everything we've eaten, but I can certainly recall some delicious moments from the past week and a half. There are some meals that I still dream about… Kind of like the meal we had our first night as a staff. The school took all of the new teachers to a restaurant called Mais Alganhim. It was right by The Gulf, and it definitely lived up to expectations!
It honestly felt like the food kept coming, and coming, and coming…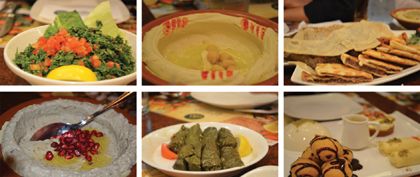 We had grilled meats (lamb, beef, chicken), roasted tomatoes and onions, hummus, baba ghanoush topped with pomegranate arils, three or four salads (like tabbouleh, fattoush, etc.), flat bread, as well as little pastries with ground meat in them. AND, one of my favourites: dolmas (stuffed grape leaves).
Of course, we can't forget the desserts either! There was a rose water pudding, a pistachio "cake", "cream" filled puffs, as well as something else I can't identify, but tasted creamy. We all had a taste of each one and they were all delicious.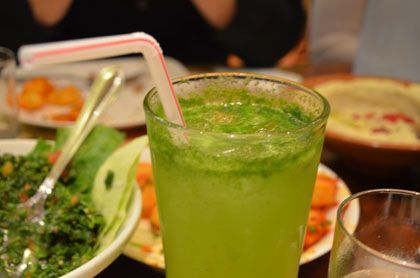 I usually only order water at a restaurant, but someone recommended the lemon-mint drink, so I decided to give it a try since I'm a fan of that combo. And it was AMAZING!!!!! I've had it twice since then. It's slightly fizzy, but not really, and it has fresh mint in it and everything! So good. I might try to recreate it at some point.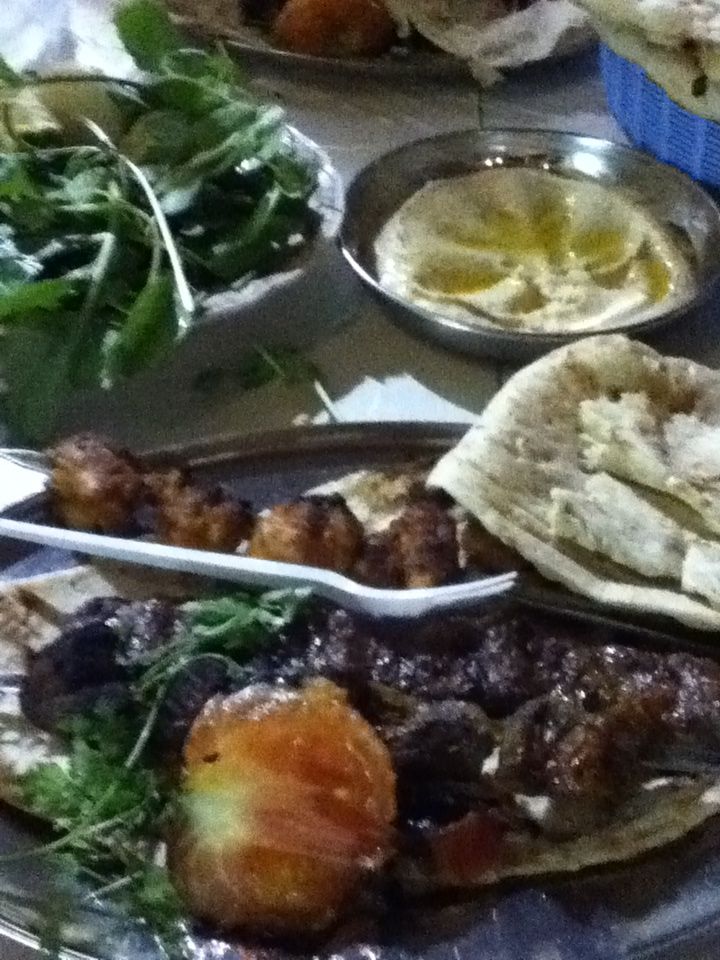 We also went to a downtown old souk (market) and enjoyed some food in the great (hot) outdoors as well. The souk has some fantastic food, and we had the typical grilled meats with roasted tomatoes and onions, as well as hummus and flat bread. They always bring you a plate of mixed greens to eat as a salad, and these were the spiciest greens I've EVER tasted!!! Seriously – they burned on the way down. I didn't know that greens came like that?!
So there you have a little peak into some of the tasty food around here in Kuwait. I'll be sure to do another post soon with some of the foods we've eaten at home as well as what's inside our cupboards now that we're living in Kuwait.